The ASHVIN project celebrated its third anniversary in October 2023. This project involves 15 organisations from 9 European member states dedicated to transforming Europe's construction industry by researching, innovating and developing concrete digital twin solutions. Over the past 36 months, construction and engineering management experts and researchers have collaborated to enhance productivity, lower costs, and maintain safe working conditions in the industry.
Despite the potential benefits of digital technology, the construction industry needs to be faster to adopt it, leading to stagnant or declining productivity rates. The EU BIM task group predicts that if the industry fully embraces digitalisation by 2025, it could result in significant cost savings of 13% to 21% during the design, engineering, and construction phases and 10% to 17% during operations on a global scale. ASHVIN's mission since the beginning has been to address these issues by developing a digital twin platform with 11 digital twin tools that extend ICT methods and innovations from low technology readiness levels to proven technical solutions at the system or sub-system level.
Developing and demonstrating digital twin technologies
Digital twin technologies create virtual models of infrastructure assets and processes essential for the construction industry's competitiveness and meeting stakeholder demands. The ASHVIN team is dedicated to showcasing the vast potential of these innovations. They have collaborated with external stakeholders, including construction site managers, workers, and public and private entities, to gather data and develop digital twin models for 10 construction assets; the ASHVIN demo sites. These demo assets include bridges, buildings, airports, sports stadium structures, and infrastructures in Spain, Sweden, Croatia, Poland, Germany, and the Netherlands. ASHVIN's efforts throughout these 36 months demonstrate a clear commitment to advancing the industry through innovative technologies.
ASHVIN is working on digital processes that seamlessly integrate all stakeholders in designing, engineering, constructing, and maintaining buildings and infrastructure. The ASHVIN team has been working on vertical integration, allowing information and knowledge to flow backwards and forwards throughout product development. In addition, they have developed a set of clear impact indicators (Key Performance Indicators) to guide the product development process towards common goals during all project phases. These KPIs evaluate productivity, resource efficiency, and safety during construction. In parallel, they work with Performance Indicators (PIs), a set of related and measurable parameters that make up a KPI.
The ASHVIN project's verification and validation process has involved selecting each Demonstrator's KPIs and PIs, collecting and transferring PIs data, fusing data, analysing and modelling PIs and KPIs, and visualising digital twins. The purpose of this process is to help end users make informed decisions.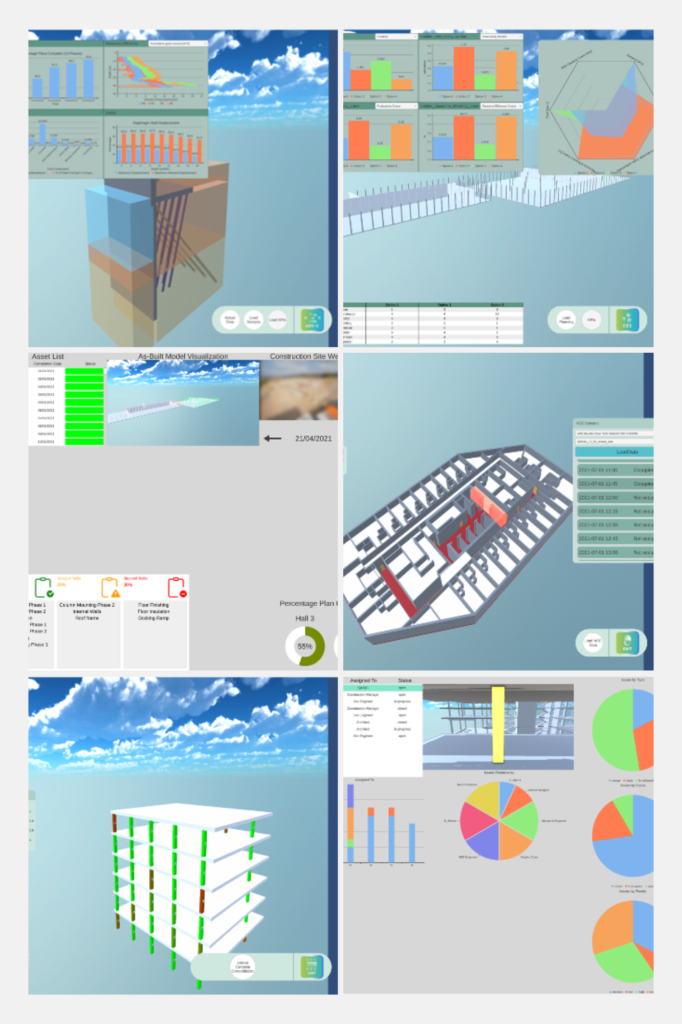 In this third year, the European Commission has granted an extension of 6 months to the ASHVIN project's work. The ASHVIN team welcomes new construction projects to the digital twin platform, offering a distinctive chance for all involved in the construction industry to witness the sector's future. Since last summer, new demo sites have onboarded ASHVIN's Digital Twin platform through this initiative we call #WINASHVIN, going beyond the 10 demonstrator sites that already contribute to developing and testing the system.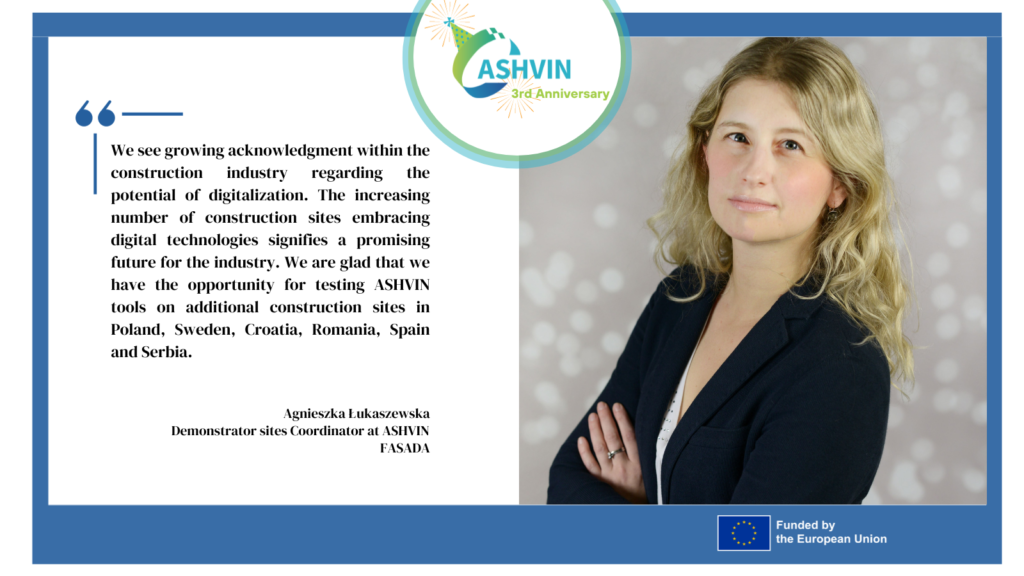 Science as the driving force behind digital twins in construction
The ASHVIN team strives to make their research and results accessible to all stakeholders. As an Innovation and Research project funded by the European Commission under the Horizon 2020 programme, the aim is to put science at the forefront of innovations that improve end-users lives. Creating and making openly available research data, results, and knowledge is a crucial part of this ambitious project.
The team has published 17 peer-reviewed publications in international conferences across 3 continents (Asia, Europe and America) and 6 peer-reviewed scientific research publications in renowned international journals. In addition, the project has produced over 80 blog articles about the project's activities and achievements and released 24 public deliverables explaining the deployed research. The Knowledge hub tab on the website provides an overview of these publications including technical deliverables, research outputs, conferences and articles with further details of the developments.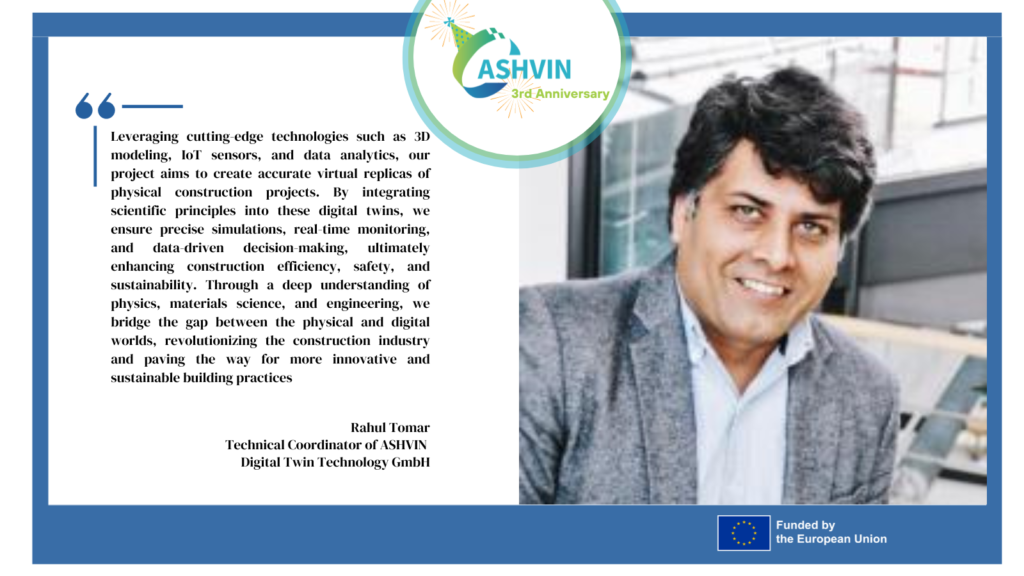 Increasing awareness about the significance of digital transformation in the construction industry
ASHVIN has launched multiple campaigns and partnered with its sister projects to promote the real benefits of digital twins for end-users; the construction industry, digital twin technology providers, digital transformation advocates, policymakers, and society. To ensure that all stakeholders understand the innovative solutions, ASHVIN presents them in various formats, such as webinars, blog articles, press releases, videos, and podcasts.
During the last year, ASHVIN launched a series of technical webinars presenting the technical innovation behind its digital twin solution. The session about the maintenance of infrastructure assets (technical webinar #2) with digital twin technologies attracted over 80 participants – topic that is also further explored in a campaign dedicated to the maintenance of infrastructure assets. 
The ASHVIN project has a significant impact not only on the industry but also on the experts involved in it. The team has highlighted the human aspect of the project through multiple campaigns, such as the #ImpactStories videos, which showcase the project's results and long-term outcomes. Additionally, their work behind the innovations has been recognised through the mini podcast series called #InnovationStories.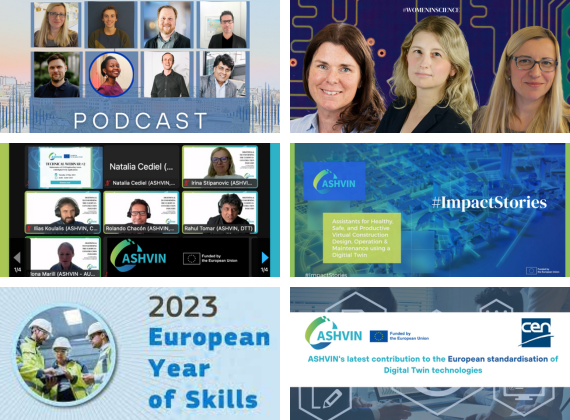 Our ASHVIN solutions are promoted through social media campaigns and newsletters, which aim to increase awareness of important initiatives and needs. One such campaign in this last year highlights, for instance, the inspiring women in science behind our project, who excel in a predominantly male-dominated industry. More campaigns have touched the social approach of the project with upskilling and training in the frame of the European Year of Skills initiative and safety as well as the project's contribution to a resource efficient industry. 
The ASHVIN team has made great strides in standardisation development in the last three years, especially by its participation to a European standardisation group CEN  Technical Committee (TC) 442 "Building Information Modelling (BIM)".   This group is working on a technical report on using Digital Twin technology in the Built environment. The report collects various use cases from several European research projects, and it will be published in mid-2024. It is the first step towards creating a new European standard for deploying digital building twin technologies.
Engaging stakeholders and moving forward together
ASHVIN counts on the support of an Advisory Board to provide guidance, share knowledge, and expand the understanding of digital twins. They are industrial stakeholders, scientific experts, representatives from standardisation bodies and professional associations from the USA, Canada, Europe and Hong Kong. 
Additionally, ASHVIN has taken the lead in organising the Joint Cluster initiative alongside its sister projects, Cogito, BIM2TWIN, and BIMmprove. Through workshops, ASHVIN has facilitated discussions on exploiting project results. To further spread awareness, ASHVIN has released a newsletter called #JointFlash, highlighting the key takeaways, lessons learned, and opportunities each project presents.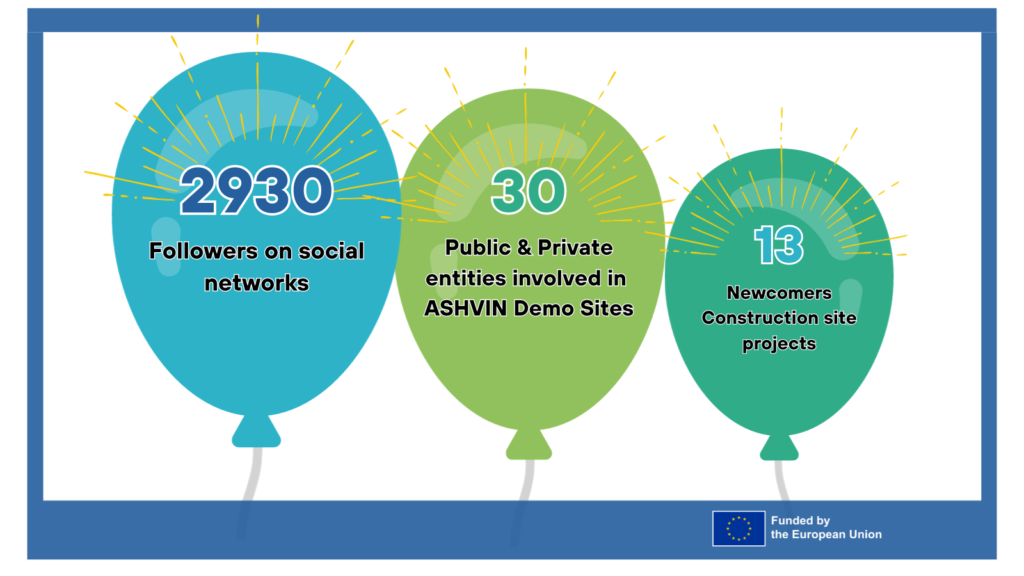 ASHVIN has been preparing for the last six months of the project, intending to grow its community and ensure that its innovations reach the right hands to make a real impact and transformation. With a community of 2930 followers on social media, over 30 public and private entities involved in the ASHVIN demo sites and 13 construction site projects freshly onboarding our digital twin platform, the project has reached remarkable outcomes and impacted various stakeholders. Nevertheless, every digital tool deployed in the 10 demonstrator sites, feedback collected from external stakeholders participating in the project, and every research that will follow are vital to making digital twins a near-future reality.