Digital Twin Technology
The modern world relies heavily on infrastructure assets, such as bridges, roads, and buildings, to function efficiently. However, many of these assets were built in the 70s in the last century, and they are reaching the end of their service lives, posing great challenges in maintaining their performance at the required level. ASHVIN project is at the forefront of innovation in the infrastructure life cycle management. This article will explore how the ASHVIN digital twin technology contributes to managing and maintaining existing infrastructure assets.
Understanding the ASHVIN Project
The ASHVIN project is a collaborative effort funded by the European Union under the Horizon 2020 program. Its primary objective is to develop and demonstrate a digital technology solution for the construction sector, focusing on improving safety, efficiency, and productivity. The ASHVIN team comprises 15 European partners covering researchers from the academic field, SMEs and end-users. This research and innovation project has been running since October 2020 and will end in March 2024. The main objective is to deliver a digital building twin solution validated in several real-life demonstration sites (Technology readiness level 6).
What is a Digital Twin of a physical asset?
A digital twin is a virtual replica of a physical asset or system with a timely, useful and active connection between both realms. It's not just a 3D model; it's a comprehensive representation that captures data at the right time and uses all gathered information about the asset. Through meaningful interfaces, this digital replica allows engineers, maintenance crews, and decision-makers to monitor, analyse, and simulate the behaviour of the physical asset without any disruption to its operation.
ASHVIN's Digital Twin Technology
ASHVIN's digital twin technology takes infrastructure maintenance to a new level. Here's how:
Timely Monitoring: ASHVIN's digital twins are prepared to continuously collect data from reality using sensors, cameras or remote sensing techniques. This data provides information about structural integrity, environmental conditions, and operational performance. Maintenance teams can access this information at the right time to identify issues as they arise.
Simulated Testing: ASHVIN's digital twin tool enables engineers to couple relevant simulations. The possibility to simulate scenarios allows engineers to ask what-if questions that may help with decisions related to physical maintenance or repairs. They can test various repair strategies virtually, which may help in planning those interventions more efficiently.
Predictive Models: With historical data and advanced analytics, ASHVIN's digital twin tools are prepared to add predictions. This proactive approach allows for foreseen interventions, preventing costly breakdowns.
Enhanced Safety: Safety is a top priority in infrastructure maintenance. ASHVIN's digital twin technology provides an end-user environment for engineers to plan and execute maintenance tasks. It can also simulate emergency scenarios, helping responders prepare for the unexpected.
ASHVIN tools for Monitoring and Maintenance
Three tools of the ASHVIN toolkit are developed for the maintenance of infrastructure assets: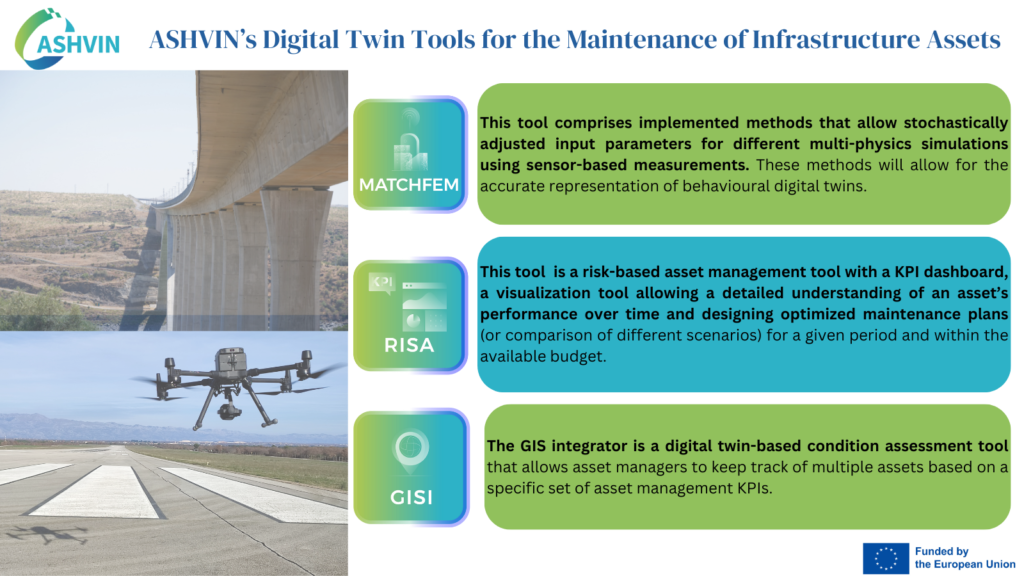 👉  Check out the tutorial video of the MatchFem tool!
For more information about MatchFem, check out deliverable 5.2. For more information about RISA and GISI, read the deliverable 5.3 (for all, see below).
Real-World Applications
The ASHVIN project's digital twin technology has a wide range of applications across various infrastructure sectors, including bridges, airport runways and sports stadium roof structures, which can benefit from real-time monitoring and predictive models to ensure safety and efficiency in the maintenance operations.
Maintenance of Bridges
The ASHVIN demonstration sites validating the use cases related to digital twins for maintenance of infrastructure assets involve different types of bridges: a bridge for highspeed-railways  (demo site #1)  and a bridge for the highway network  (demo site #7) and which are both managed by UPC from the ASHVIN team.
At demo site #1,  ASHVIN supports the load testing operations of a railway bridge, and there, we have established requirements and procedures for generating the most realistic virtual replica of the physical bridge. The aim is to create a high-quality virtual asset with validated results. This validation occurs precisely before the asset enters the operation phase. A validated asset helps maintenance managers plan more effectively all interventions.  Matchfem and GISI tools are implemented at this site.
👉  Check out our video about the demo site #1 use case!
At demo site #7, the ASHVIN team is creating a digital twin of the bridge for the highway network during operation. Several data collections encompassing sensors, imagery and point clouds are implemented. Visual inspections are also digitized as a routine data contribution to the digital twin. The main goal is to contribute with manifold ways to better planning interventions on the asset. Matchfem and RISA tools are implemented at this site.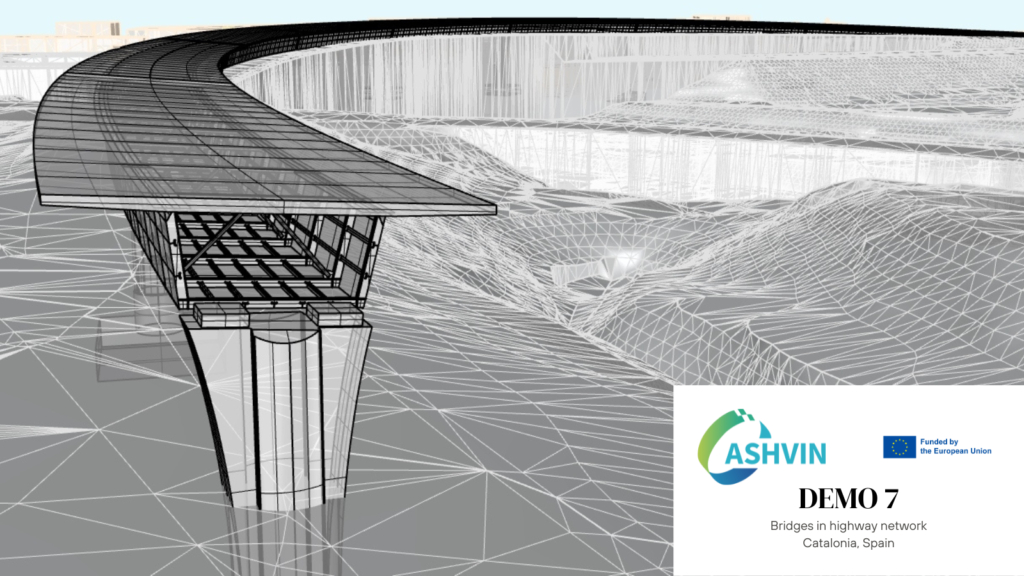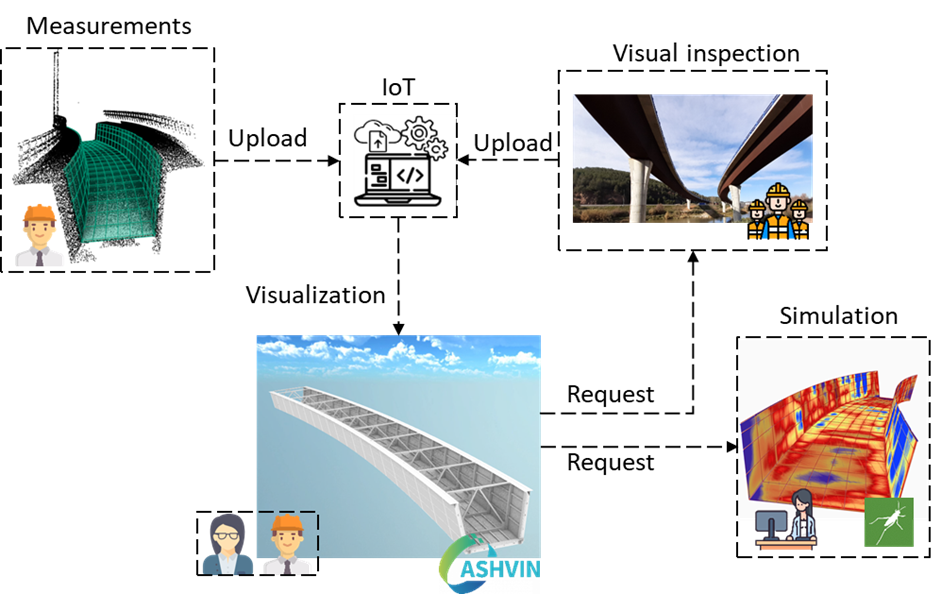 ASHVIN demo site #7 process
Management of Airport Infrastructure Assets
Along with bridges, INFRAPLAN investigates how ASHVIN tools can support the maintenance of airport runways (demo site #3), especially with preventive models. A digital twin model of the assets has been created,  containing information about the runway structure and embedded materials. This supports the visual inspection and damage detection procedures. RISA and GISI tools are implemented at this site.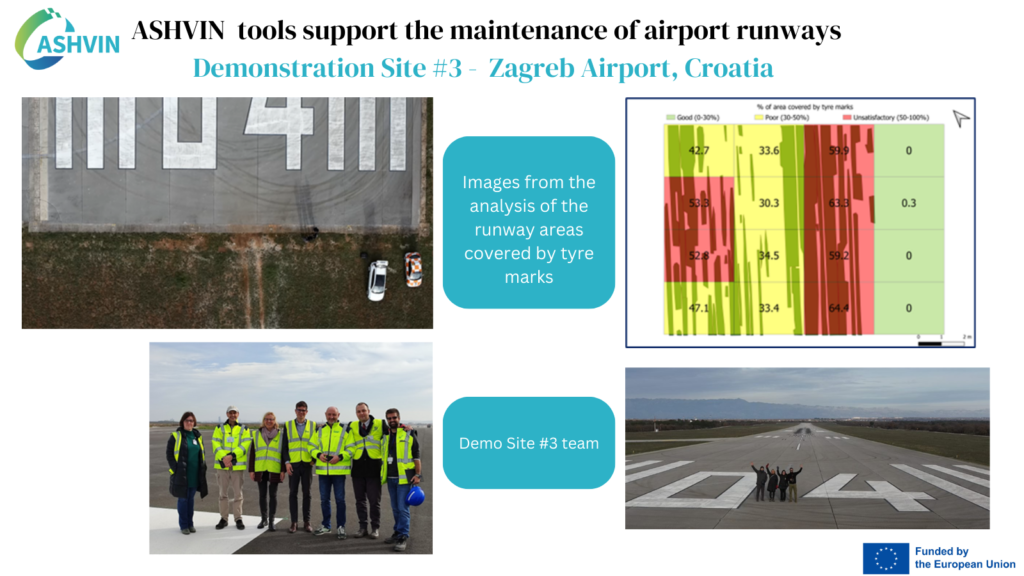 Maintenance of complex roof structures
One of the challenging demo cases is the Sports stadium roof structure (demo site #9) constructed of a cable network. The ASHVIN team measures the nodes' position in different seasons at this site. Displacements and the effect of temperature on the cable net are under scrutiny. For developing efficient and systematic segmentation and identifying specific elements of the cable net (nodes, cables, masts), CERTH is responsible for developing tailor-made algorithms. Once identified systematically, the structural analysis of the roof is performed, enabling the deployment of the MatchFem tool.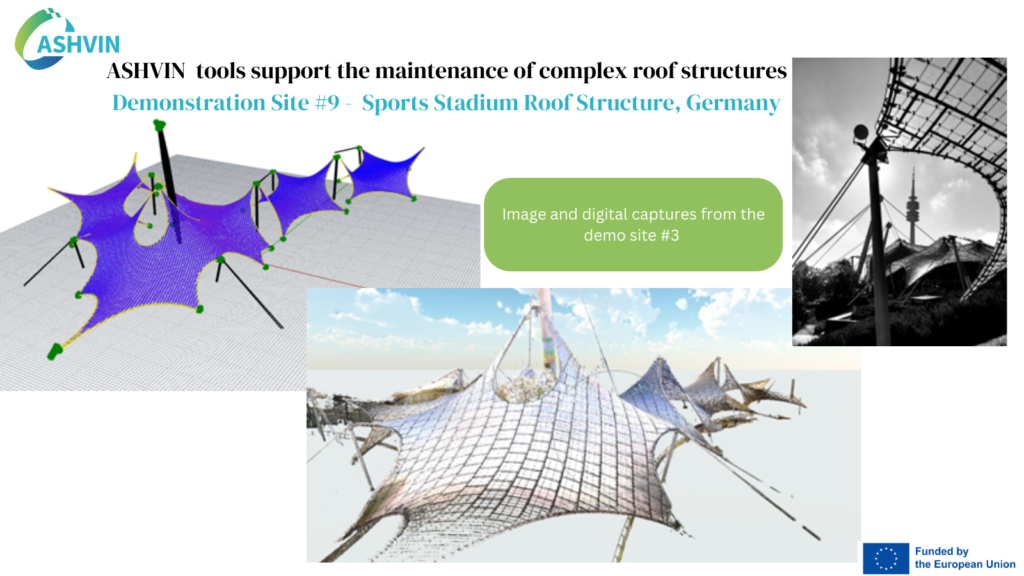 If you want to learn even more about the ASHVIN innovation in infrastructure asset maintenance, consult our following related results:
Scientific publications
👉   Conference paper: Automated pipeline for the analysis of a scale-reduced steel cable net (download)
👉   Conference paper:  Seasonal analysis of a 846 long steel box girder bridge using Terrestrial Laser Scanners (TLS) and FE-models". This paper is related to the research at the ASHVIN demonstration site #7 "Bridges in highway network in Spain (download)
👉  Scientific article published in a journal: Requirements and challenges for infusion of SHM systems within Digital Twins platforms (download)
Also, the Structure and Infrastructure Engineering Journal has approved an ASHVIN-related article entitled Digital twinning during load tests of railway bridges -Case Study: The high speed railway network, Extremadura, Spain. – Stay tuned for its publication!
Deliverables
👉   Deliverable 5.2: Digital-Twin enabled multi-physics simulation and model matching (download)
 👉  Deliverable 5.3: A set of KPIs to plan a safe risk-based maintenance (download)
Other related publications
Podcast series: ASHVIN Innovation Stories on Maintenance
Our several podcast episodes offer insights into our researchers' innovation in maintenance:
 👉 Digital twins and risk-based asset management by Irina Stipanovic (listen now)
 👉 Digital Twins as assistants for infrastructure maintenance by Rolando Chacon (listen now)
ASHVIN Webinar #2
👉 Watch our second technical webinar entirely dedicated to the ASHVIN's research on  maintenance
Moreover, the ASHVIN project's digital twin technology is a game-changer in infrastructure maintenance. Real-time monitoring, predictive maintenance capabilities, and simulated testing empower engineers and maintenance teams to keep our essential infrastructure assets in shape. This ensures the safety and efficiency of our communities and contributes to sustainability efforts by extending the lifespan of these assets. As ASHVIN continues to develop and implement its innovative solutions, the future of infrastructure maintenance looks brighter than ever.