The EU Innovation Radar is an online platform showcasing concrete innovation results from EU-funded research and innovation projects. It enables to find innovations classified by their maturity levels:
Exploring – innovations exploiting the value creation opportunities
Tech Ready – progressing on the technology development process (pilots, prototypes or demonstration)
Business Ready – putting concrete market-oriented ideas together (market studies, business plans, end-user engagement)
Market ready– outperforming innovation management and readiness. Considered ready for market.
As the final project months of the ASHVIN project are approaching, the project starts to look into the next steps to exploit the research and innovation results beyond the project's lifetime. The ASHVIN team is working towards a final exploitation plan, including notably a business plan and business model canvas and identification of the key exploitation results; the interim version of this plan can be uploaded here. Hence, the EU Innovation radar helps to share the key exploitation results with stakeholders.
Now, the three tools of the ASHVIN Digital Toolkit are shared on Innovation Radar, and all three are classified as "exploring".
Digital-twin-supported tool for lean production planning enabled through IoT fuelled real-time production data and construction process simulation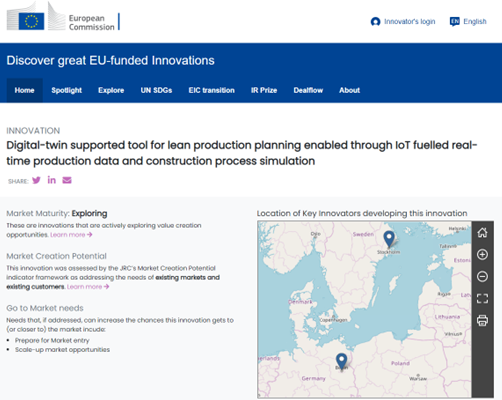 Learn more: https://innovation-radar.ec.europa.eu/innovation/49588
Safety management dashboard for construction projects ensuring individual worker privacy through data aggregation and edge computing of processing of IoT data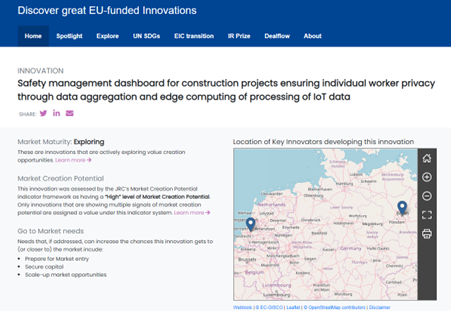 Learn more: https://innovation-radar.ec.europa.eu/innovation/49583
IoT based Digital Twin Platform for real-time construction monitoring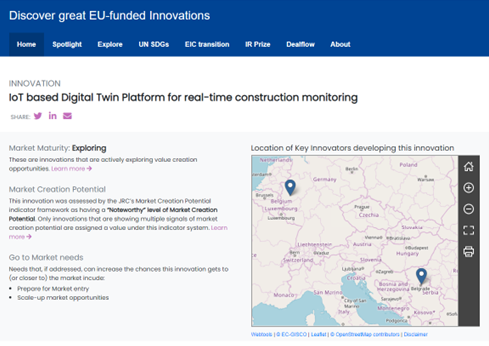 Learn more: https://innovation-radar.ec.europa.eu/innovation/49585