The ASHVIN project has released a fresh newsletter gathering news and updates from the past four months of the project – and a lot of things have happened since last November!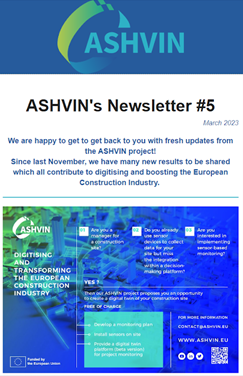 Our team had the 2nd project review with the European Commission guiding us towards the final project year, and then the plans were discussed in the 5th Consortium meeting in Greece. We have organised several online workshops and webinars contributing to the research on Digital Twin and its exploitation. More importantly, ASHVIN published an open call to onboard external construction projects in its digital twin platform. Discover this news and more!
We are happy to share these results with our community – access the newsletter here or download it via Zenodo.
To subscribe to the newsletter here.