Structural health monitoring (SHM) is required in the definition of Digital Twins (DT) regarding surveying the condition and thus managing decisions related to the built environment.
The first leg of any system based on SHM is data collection. However, appropriately embedded data-collection within existing digital twin platforms is still in its infancy. It is necessary to implement compatible, state-of-the-art instrumentation for infrastructure control within centralized platforms.
On such a basis, sensor-, image- and remote sensor-based data need to be meaningfully collected and embedded within DT platforms according to specific asset characteristics. As a result, fully automated SHM systems can be established and then implemented in the construction projects. It is important to point out that different ways of collecting data provides generality, applicability and robustness to any SHM system. With that aim, this deliverable has been developed, providing the overview of state-of-the-art SHM technologies.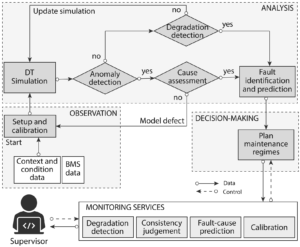 The focus of the document is on the specific requirements one needs to account when it comes to data structure, data format and its corresponding match with numerical methods for further analysis. The description of these requirements together with an overview