This month the United Nations commemorates World Creativity and Innovation Day to promote these concepts to problem-solving in the context of economic, social, and sustainable development. At ASHVIN, we join the initiative and underline innovation's importance in tackling challenges such as climate change adaptation and mitigation in our rapidly deteriorating infrastructures. As a Digital Horizon European Research and Innovation project in the construction sector, we are invested in transforming an industry responsible for solving these global challenges.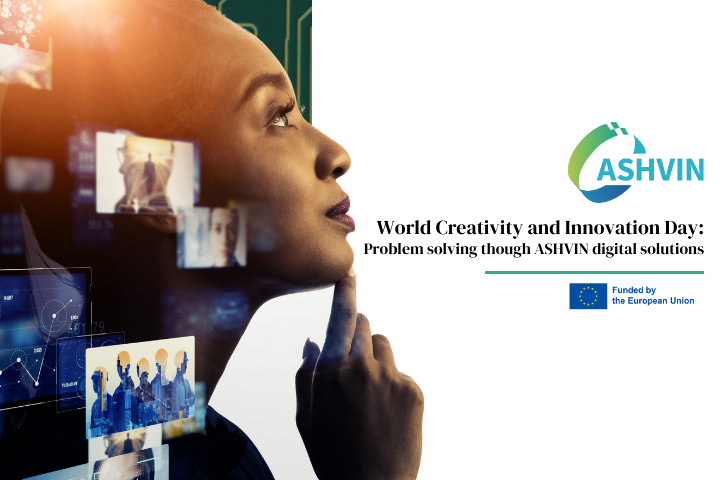 The construction sector is one of the least digitised, with flat or falling productivity rates. However, internationally, it is well recognised that the true value of digitalisation lies in the possibilities to collect and analyse data meaningfully and with the options to simulate and optimise accurately. Therefore, the ASHVIN team has been researching and innovating to move from simple BIM to true data-driven and simulation-supporting digital twins.
We have been working on digital innovation for almost three years to boost the European construction sector. We have focused on three stages of our problem-solving innovations: design /engineering conducted without consideration of the later construction processes, a construction in which IoT data collected was not available through a central point, and maintenance that needed to be updated and updated documentation. In addition, solving these bottlenecks required means of interoperability between and within the different phases.
Innovation is part of our DNA at ASHVIN; considering all these bottlenecks, we have developed not only a fully IoT-enabled digital twin platform but also a game-changing process of innovations to leverage digital twin data. Along with the IoT-driven digital twin platform, we have introduced a smart building toolbox that extends existing ICT methods and innovations from low technology readiness levels (TRL 1-4) to proven technical solutions at the system or the sub-system level (TRL 6).
At ASHVIN, we have a clear, holistic innovation approach. For example, with our productivity and resource efficiency innovations, we are leading better scheduling forecasts by 20%, better allocation of resources, reduced the number of accidents and reduced costs by 20%. In safety, we leverage the possibilities for hazard detection, safety equipment management, and prevention methods by integrating them vertically and horizontally within the entire product development process. Furthermore, all our research and innovations follow a socially inclusive approach, implementing a strong "people first" philosophy throughout all our research and innovation efforts.
Contributing to Europe's Digital Decade targets
The Digital Decade policy programme has concrete targets for 2030, guiding the digital transformation: skills, government, business, and infrastructure. When it comes to business, more than 90% of our SMEs reach at least a basic level of digital intensity. Therefore, the European Union and, more concretely, the European Innovation Council and SMEs Executive Agency (EISMEA) are supporting and creating the means to support the digitalisation of SMEs.
At ASHVIN, we are digitising the sector, representing several benefits such as job creation, modernisation, efficiency, productivity, and competitiveness. By opening our digital toolkit to 50 SMEs working in the construction sector, we will help them to digitalise their construction projects and to make better use of their data. The ASHVIN system, enables these construction projects to deploy collected data by analysing and visualizing it to improve the real-time management of the asset.
Launching the ASHVIN Innovation Booklet
Throughout April, ASHVIN will showcase its ten digital tools, digital twin platform and innovations on social networks. At the Creativity and Innovation week 2023, running between the 15th and the 21st of April,  the ASHVIN team will launch a booklet showcasing the unique opportunity for construction projects to onboard the ASHVIN Digital Twin platform. It that can be downloaded for free by interested construction site managers willing to try the digital twin technology developed over the last years of the project. 
Stay tuned for more ASHVIN results, and connect with us through our LinkedIn or Twitter communities!