On May 24th, the Managing Director from DigitAEC Matters, Lucian Ungureanu, presented ASHVIN at the Computational Civil Engineering International Conference in Romania. The conference focused on embedding digital and green for resilient constructions. Dr. Ungureanu explained how our digital twin platform and toolkit could improve the construction process for the 30 participants.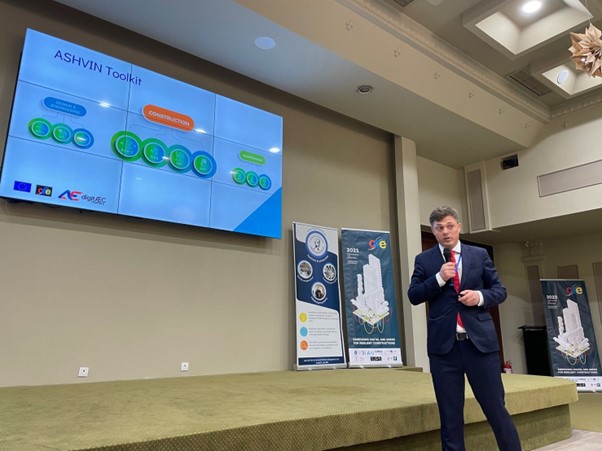 The conference is traditionally organised by the Faculty of Civil Engineering and Building Services of Iasi and the "Matei Teiu-Botez" Academic Society. However, the recent joint research work with various faculties of "Gheorghe Asachi" Technical University of Iași led to the conference being jointly organised by TUIASI and "Gheorghe Asachi" University Foundation starting in CCE 2023. The conference has been organised once every two years since 2015, with physical attendance in the beautiful city of Iasi, with the venue in the historical building designed by Gustave Eiffel in the early XIXth century Grand Hotel Traian.
The 2023 conference focused on research outputs that enhance high-quality education and training and foster collaboration and cooperation among research groups on relevant topics endorsed by European Project calls within the 2021-2027 budgeted actions. Therefore, during the conference, Dr. Ungureanu had the opportunity to discuss ASHVIN with the participants.
Dr. Ungureanu expressed his enthusiasm for the opportunity to present ASHVIN at the conference: "CCE has become an event with tradition in Romania, organized every two years and attracts national and international researchers and practitioners that see the potential of digitisation and digitalization to improve efficiency and performance of civil engineering. I was very excited to show the work of ASHVIN, especially because it showcases the potential of Digital Twins to improve resource efficiency, productivity, and safety for the construction phase of the civil engineered projects."