Think WIoT Group hosts aseries of IoT related livestreams with experts from varied stakeholders' sectors. On February 22nd, 2023, ASHVIN was presented in a session dedicated to IoT for construction industry where experts will presented innovations for logistics, supply chain and the construction industry. These create transparency and traceability for goods, transport containers and construction machinery. 
Associate Professor Rolando Chacón from UPC, presented the ASHVIN system and showcased the deployment of the ASHVIN solution at the use case about the creation of a digital twin model for easing the bridge load testing (Demonstration site #1 Bridges for High-speed railways in Spain). In total, 46 online participants joined this session that is available online.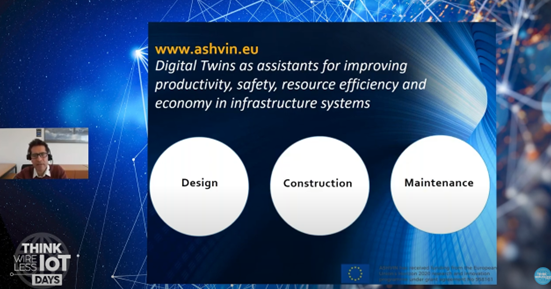 Check out the livestream recording!  
Stay tuned for more ASHVIN results, and connect with us through our LinkedIn or Twitter communities!