In September 2022, the ASHVIN partner, CERTH, presented a publication entitled A survey for image-based methods in construction: from images to digital twins" at the 19th International Conference on Content-based Multimedia Indexing (CBMI 2022) (↗️). The authors of this publication are from ITI-CERTH (Koulalis, I., Dourvas, N., Triantafyllidis, T., Ioannidis, K., Vrochidis, S., & Kompatsiaris). 
In the construction domain, Digital twins are mostly used for facilities management of buildings, but their applications are still very limited. The virtualization of buildings and bridges in the last 15 years in the form of Building or Bridge Information Models is clearly identified as the starting point for the DTs. The industry has erected a frame with semantically rich 3D reference models that are now heavily enriched with visual sensor data captured on construction sites. This article provides an overview of the research and current practices of computer vision methods in the construction industry and presents typical examples of their applications for 3D reconstruction, safety management and structural monitoring for quality assurance. It then highlights the dominant achievements presented in the literature and concludes with the challenges and research directions applicable to digital twins that need to be addressed and exploited in the future.
Access the entire publication here (↗️).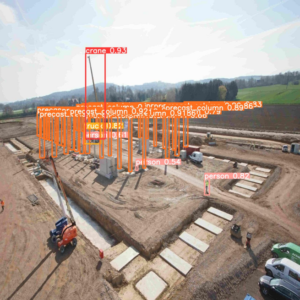 Stay tuned for more ASHVIN results, and connect with us through our LinkedIn or Twitter (↗️) communities!