From the 14th to the 16th of December, Manuel Jungmann from TUB, one of the leading technical partners in the ASHVIN project, presented the project's research at the Winter Simulation Conference WSC2022 in Singapore.
After more than 50 years after its inception, the Winter Simulation Conference was held in Asia for the first time. The theme of 2022 WSC is derived from Singapore's Smart Nation initiative, "Singapore Reimagined." The COVID-19 pandemic brought us a "new normal", and technological advances in the fields of robotics, artificial intelligence (AI), biotechnology, Internet of Things, quantum computing, and virtual reality (VR) are changing the way humans live, work, play and communicate. Building on the "Smart Cities" focus of last year's conference, 2022 WSC "Reimagine Tomorrow" to evaluate not just living in an urban future where cities are safe, green and environmentally-secure with seamless power, water and transportation networks, but also working in an environment where both sustainable high-tech manufacturing and novel services play an essential role.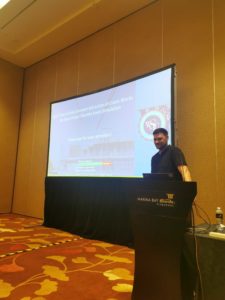 Within the event's scope, Jungmann presented a scientific paper entitled "Real-time duration extraction of crane works for data-driven discrete event simulation" related to the work carried out within the WP4 "Control and real-time simulation in construction" of the ASHVIN project. The paper will be published in early 2023.
Stay tuned for more ASHVIN results and connect with us through our LinkedIn or Twittercommunities!