Between the 20th and the 23rd of June, 2023, ASHVIN was represented at a week-long scientific EPO Conference  (Engineering Project Organization) organised by the Technische Universität Berlin in Berlin, Germany. The project's research was showcased in a conference presentation by Joan Evelyn Ongoadia, a research assistant at TUB, and her presentation was entitled Construction Knowledge: Emergent Insights from tacit knowledge experiences.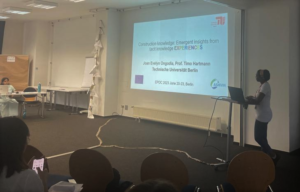 This year's overall theme for the conference was Engineering for Changing Systems, and one of the leading themes was Digital transformation in engineering/construction; where and how can we identify or build expertise and talent to fill the need to move forward? This theme is linked with the ASHVIN project's ambition to develop a digital twin technology solution that enables construction project managers to improve the safety and productivity of construction sites.
The presentation introduced the ASHVIN project and walked the audience through the findings of our exploratory research related to Work Package 2, which reuses historical data and knowledge from past projects to support early-stage design. The novel theoretical framework for updating requirements developed from the verbatim quotes of interviewed experts within the ASHVIN consortium was presented. The advantage of using the framework was illustrated using an example of how a client's cultural preferences can be considered and accommodated by using tacit knowledge to review and update standard requirements.
61 attendees were present in Berlin, from the USA, UK, Australia, China, Hongkong, Denmark, Austria, Norway, and other parts of the globe.
After the presentation, most participants look forward to the final research results. Many visited the project website, and the TUB team received two invitations for short lectures.