On the 23rd of March, the SmartBuilt4EU project organised its conference in Brussels. The European smart building innovation community was invited to learn about the impact and conclusions of this Horizon 2020 project and others working in the sector. The hybrid event was an excellent opportunity for the ASHVIN team to synergise with other European projects and stakeholders.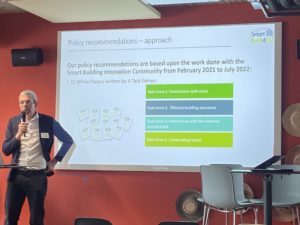 The session started with the opening remarks by the Project Coordinator of SmartBuilt4EU, Alain Zarli, from ECTP, who explained to the 230 participants the importance of keeping up and running the community. The ASHVIN project is one of the community members featured in their catalogue and recognised as one of the 100 projects relevant to the sector. Following the inauguration and institutional panel, representatives of the European Commission and CINEA presented European strategies, funding opportunities and the digital transition pathway of the industry.
The event's second panel showcased H2020 projects working on digitalising the built environment, such as the host Smart4EU. The event aimed to conclude the project by presenting policy recommendations and innovation priorities – based on the 12 White Papers produced by the European Smart Building Innovation Community on Occupant-centric buildings and quality of life, Smart financing and business models, Education, upskilling, etc.
Representatives of H2020 / HEurope projects – Phoenix, SATO, AutoDan, Collectief, EasySRI, SRIMarket, SRI-Enact and Smart2 – shared challenges, opportunities, findings, and outcomes in the event. Then, to wrap- up the panel, Regis Decorme from SmartBuilt4EU stressed recommendations for approaches such as smart building data governance, interoperability of smart solutions, and flexibility of the smart building.
After the project pitch panel, the session focused on smart building clusters, where the Buildwise cluster, the Built4People partnership, the Nebula project, and the New European Bauhaus were displayed. Then, several more European projects shared their innovations on building lifecycle and smart building data, opening discussions and questions to virtual and physical participants.
To end the event on a high note, SmartBuilt4EU prepared presentations and debates with the audience on future perspectives for smart buildings in Europe. Representatives of the project walked attendees through the final recommendations for policy and innovation, ten priorities covering 40 key actions for the EU to support research, innovation, and market uptake in the field of smart building, and attendees had the opportunity to discuss and raise questions.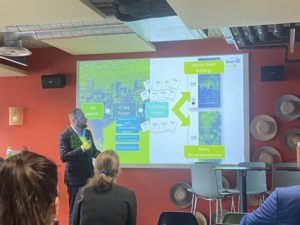 The conference was a timely chance for ASHVIN to learn about other European projects, meet the community in person, and, in turn, explain how the team is boosting the European Construction sector with the ASHVIN digital twin platform and ten digital tools now opened to 50 construction sites.
Stay tuned for more ASHVIN results, and connect with us through our LinkedIn or Twitter communities!